Mythili (11) is ambitious and independent, with a game plan to leave no coding challenge unfinished!
As this month's top student coder on Hatch, she's completed 208 projects and 371 challenges in just 10 months! Mythili thrives on stacking concepts, seeing how skills gained from previous projects help to solve the next ones more and more intuitively.
The Hatch project that Mythili is most proud of?
Check out her take on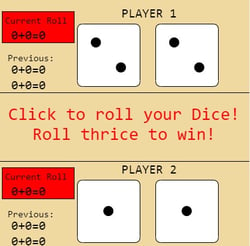 Two 6-Sided Dice where she added elements like variables and a counter to make it an interactive game. Look out to be showered in confetti! After three rolls the winner is celebrated, you can play her game here!
When students autonomously choose their own coding projects (from the 600+ on the Hatch platform) they learn coding skills intrinsically guided by their own interests. Hatch is also straight-forward for kids to navigate.
"The Hatch platform is easy to understand, you can do it by yourself very independently. You don't need much guidance." Mythili shared how she got hooked on coding with Hatch.
What was the starting point?
For Mythili, it was a school coding club offering Scratch. Block-based programming platforms like Scratch help kids to understand concepts without having to type. They use a "drag and drop" function instead, which allows users to place chunks of coding instructions together in order to tell their computer creation what to do. Always keen to learn new things, Mythili knew she was ready for the next challenge...full-language coding!

"When the school club ended, I was ready for learning 'real coding' - like JavaScript and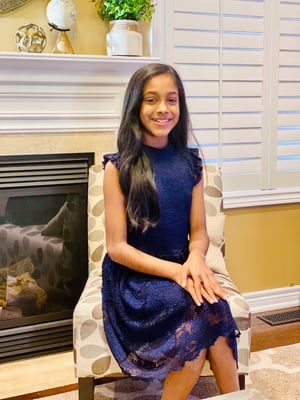 Python," explained Mythili.
How can a community help to continue coding?
After stumbling on Hatch after a piano lesson one evening, she chose Hatch to continue her coding journey. Since then, Mythili has become part of the Hatch community (a regular attendee of the daily Hatch Virtual Classroom) which has been a constant to look forward to... especially since the COVID-19 school closures. Mythili and her friends have met through Hatch and continue to find friendship in each other, laughing and learning while creating code together.
Mythili's favourite part of the class is when coaches explain projects in detail, which helps kids learn to enhance their code with new commands. She's always asking questions and is a big fan of the people who make it all possible."I like that there are virtual classes so you can get some guidance from the coaches while you're coding all together. And I like that Hatch added some help buttons, so if you ever feel stuck an instructor can give you some feedback."
Parents are kept in the loop too!
The "Parent Portal" dashboard makes it possible to see and be proud of their kids progress. Mythili's mother, Surya, shared her experience.

"The dashboard gives transparency to see your child's ideas and projects that they're trying out, so you can imagine what they will achieve with each level. It's great for parents to be able to check in with kids to see if the path is clear going forward towards their goals" she said.
Surya believes the Hatch platform is teaching kids to be independent thinkers as they develop their coding skills."I'm grateful for Hatch, in this pandemic it's teaching Mythili the basic hard-skills and also giving her community to engage with and find motivation to keep learning. The daily Virtual Classroom is something she can look forward to each day." Surya shared.
Join the Hatch community of coders by signing up for a 2 Week Free Trial. Explore how Hatch may be a good fit for your family this summer!
By Natalie Harris & Manon Buckingham