Hatch Canada sat down with Startup Canada Co-Founder Victoria Lennox to discuss Canadian entrepreneurship and the importance of learning how to code in our shifting economy. We also got some great insights into the world of Startup Canada and learned the opportunities for women in tech. In the first of this three part series, we discuss Startup Canada and Canadian Entrepreneurship.
Hi, Victoria! Thanks for taking the time to chat with us. Can you tell us about yourself? How do you spend your days?
I'm so pleased to be talking to you as well. My name is Victoria Lennox and I'm the co-founder and CEO of Startup Canada. I'm a serial social entrepreneur. I was born in Cambridge, Ontario. I went to the University of Ottawa, so I could be close to Parliament Hill, because up until that time, as far as I knew, going into politics and public policy was the greatest way of making an impact and improving the conditions for Canadian. I'm really drawn to wanting to be of service to other people, that's innate to me.
I had the opportunity to go to the University of Oxford, where I joined Oxford Entrepreneurs, which is a student club. I was exposed to entrepreneurship for the first time in my twenties - it was love at first sight. I felt as though entrepreneurship could be leveraged as a form of public service, where individuals were empowered to contribute to the world their ideas, what was unique about them, and in a sustainable way that actually created new opportunities for others to become employees, to help to be co-creators and then ultimately to grow entire economies. I became so passionate about the potential of entrepreneurship to build confidence and foster innovative mindsets and to truly unleash individual potential while uplifting entire economies as a result. That became very exciting to me.
So how do you spend your days now?
My work today with Startup Canada is such a privilege - to be able to do what I love every day.
As ventures shift, where you spend your day shifts as well. I spend my days working with my team and working to build a sustainable organization that can ultimately impact every Canadian entrepreneur. I spend time in team meetings and scrums doing brainstorming on our programs. I meet with government officials and Ministers to help to advocate for the conditions for entrepreneurial success. I work with entrepreneurs and give them feedback on their businesses and help to connect them with resources. I speak to the media, celebrating how wonderful our entrepreneurs are and trying to put as many of them as I can on the mainstream stage so that they can inspire other Canadians to follow their dreams, but also so that they can be exposed to more customers and people who can help them grow their businesses. So, it really is a privilege to have the opportunity to live my dream as an entrepreneur and to work with other people pursuing their dreams.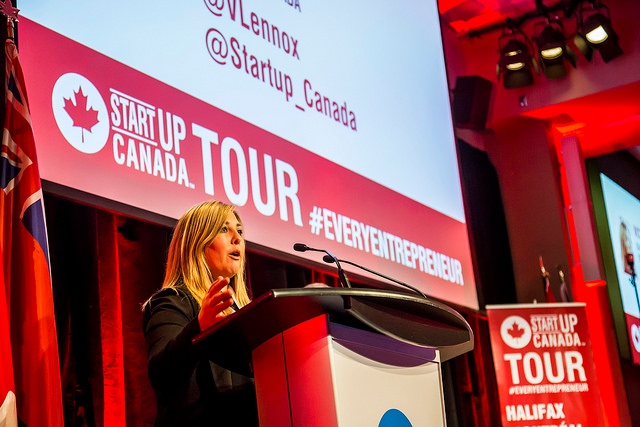 We'd love to hear more about Startup Canada and Startup Generation!
Startup Canada is a national non-profit network of entrepreneurs across Canada. We support entrepreneurs through what we call Startup Communities. Startup Communities are grassroots networks of entrepreneurs in local cities and towns across Canada. We have 25 startup communities today, from Startup Smithers and Startup Whitehorse, to Startup Fredericton and Startup Toronto. They're entrepreneur-led and -run events that bring together the ecosystem support for entrepreneurs. They connect entrepreneurs to opportunities, mentors, training, financial support, resources and opportunities for exposure and connections to a national and global network.
How does the Canadian Government play a role in this?
In the Capital, Startup Canada plays an important role as a voice for Canada's entrepreneurship community to the government. We advocate for the conditions necessary for entrepreneurs to succeed, and the conditions necessary to create an environment and culture of entrepreneurship in Canada as a key economic driver. We also actively connect entrepreneurs into the democratic process - ensuring that they can and do directly connect to the government officials that can help to remove barriers and open up new opportunities for their businesses. I'm very passionate about all of this!
Sounds like it. Providing opportunities so that young people have the tools to innovate and create is very important to Hatch Canada. Was Startup Canada your first venture?
Startup Canada is my second big venture. I also have started a non-profit in the UK called the National Association of College and University Entrepreneurs, which supports college and university students across the country in gaining experiential skills and opportunities to have entrepreneurial experiences. NACUE supports student entrepreneurship clubs at colleges and universities across the UK, advocates for youth entrepreneurs to government and supports more than 45,000 students a year in gaining entrepreneurial skills. So, entrepreneurship is really in me and it's a privilege to do what I do. I also think what you guys are doing is so important to Canada!
Thanks, Victoria, for your dedication to our Canadian entrepreneurs! In Part Two of this blog series, we'll discuss why Victoria thinks what we are doing at Hatch is important in the Canadian entrepreneurial story. Part Three of the blog series will be recognizing the opportunities for women and girls in technology
Hatch offers more than just teaching code. At Hatch, your children will see a new world opened to them, and learn about different opportunities for their future. Learn more about camps, weekly classes and after-school programs. Sign-up today!