*3D laser imaging 5000ft underground
We sat down with Dr. Jason Mah to discuss his career, his experience working with NASA, and why he has partnered with Hatch to offer a new program for children which he hopes will deliver an unparalleled learning experience. He developed the curriculum for Hatch Canada's Space Camp, so that all students can learn foundational skills and build the confidence they need to one day pursue a career in science, physics, or engineering.
With over 10 years of experience in the space industry, Dr. Mah participated in NASA's Return to Flight program to develop a 3D laser scanner, which flew with each subsequent space shuttle launch until the retirement of the space shuttle program. Dr. Mah's work was celebrated with 4 awards from NASA for contributions to the Orbital Boom Sensor System, the Space Shuttle Program, and the completion of the International Space Shuttle.
Dr. Mah began his career in 2003 after obtaining a degree in Mechanical Engineering from the University of Waterloo. "I was working on the LCS, the Laser Camera System," he recalls. "At the time, the Columbia Space Shuttle had exploded when it returned to Earth, so NASA was looking for sensors to prevent similar or future problems. I was working in thermal design and analysis."

Dr. Mah's job entailed finding ways for the 3D laser scanner to survive the extreme conditions that come with orbiting the Earth. The 3D scanner needed to be able to stay cool during operation in the sun and warm enough in cold shadows with the help of heater power. Dr. Mah was presented his analysis at stakeholder meetings, which included the NASA team. After the engineering models were developed, Dr. Mah transitioned to a new role as mechanical test lead.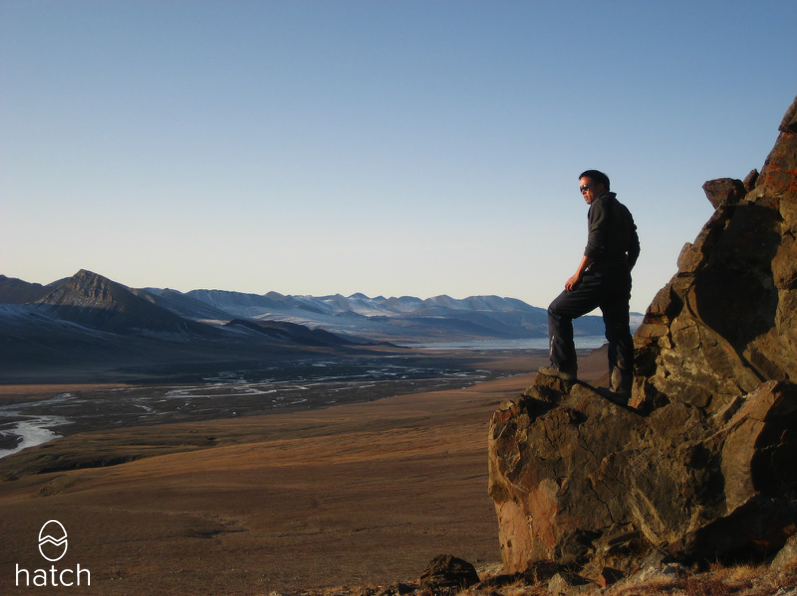 *Admiring the view during an Arctic survey
Dr. Mah held his position at Neptec until 2006 when the space industry experienced fast and dramatic changes. After that time he went on to do his Masters at Carleton University in Earth Sciences. During his studies in the Earth Science program, Dr. Mah conducted geophysical surveys and got to travel to the Arctic (a similar environment to the moon in many ways) to see if an electromagnetic could detect water under the frozen tundra..
"My thesis was about the application of 3D laser imaging in underground mining.

It involved the same scanner we used in space.

I started my thesis as a full time student, using Neptec equipment. We would go to the Vale mines in Sudbury, for example to learn and test. The 3D data from the scan was used to estimate the structural integrity of the rock mass. This was mainly to make sure it is safe. We wanted to get away from manual measurements. The current method is empirical, - there is no formula. Empirical methods are observation based, a thinking that if "it's safe here, since the conditions are the same, it will probably be safe over here too". We wanted to improve this methodology with technology. That results from this analysis can be used to apply shotcrete and mesh fencing to contain the blocks that are falling apart of the rock in places that were not structurally sound."
While working on his thesis, the university offered him the opportunity to fast track to a PhD in 2012. Neptec also re-hired Dr. Mah, part-time, and he was working on a new laser system for NASA designed to dock the international space station. He was pretty busy!
"I was once again responsible for thermal analysis and thermal vacuum tests.

We also worked on rover concept studies, and the mobility design of the rover. We were concerned with traction for the terrain. We had to think about the wheels and suspension systems because space is a hostile environment - tires cannot be made of silicon or rubber, but instead must be made of metal! I was working on a four-wheel rover system and an eight-wheel rover system.

We were doing this for the

Canadian Space Agency

because there's a push to send a Rover back into space."
How did Dr. Mah make the transition from 3D laser imaging to working with us? Check back soon to see Part 2 of our special on Jason Mah!
Check out Space Camp for your engineer-to-be or email us at hatch@hatchcanada.com with any questions! And if you loved this post, don't forget to share it on Facebook to spread the word!