Programming is vital to success in the technology-driven economy of the 21st century. It also teaches kids a broad range of skills that will help them in countless other areas. School boards and teachers often feel that teaching real coding with proper syntax is daunting, if not impossible. However, Hatch's Mastery-based learning environment, supported by our project-based learning platform, allows students to learn programming and syntax at a much younger age.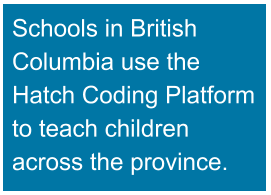 British Columbia and Nova Scotia have both launched progressive approaches to teaching computer programming. In the last 12 months, 33 US states have adopted a total of 57 policies to support computer science education. Schools in British Columbia are using the Hatch Coding Platform to teach children across the province. Ontario students are not required to take coding or computer science courses.

The TDSB states they include programming in their K-8 programs. However, many of the TDSB schools teach programming via a block programming language. This is not a programming language and is not used in real world applications. Students may struggle to build skills related to computational logic and programming syntax. It is similar to teaching a child to write but with little focus on grammar, as well as limiting the words and sentences they have to construct a story. This limits the students potential and creates an upper limit on what they are able to create.
By creating genuine computer programs in real computer languages, Hatch students reach a high degree of achievement in real-world computer programming. These skills, unlike many developed in block languages, are transferable to a variety of other languages like; python, ruby, html, CSS, C++ and more.
Creating options and choices for the future.